Training Opportunities
Supporting the Landbased Economy of the Parish
A major aim of the project was to undertake a skills audit of the Parish to identify training needs and to then meet these training needs.
Requests for training included first aid (+ remote workers first aid), computing, trailer driving, understanding farm finances, atv and foot trimming.
Other training opportunities to support the Historic and Wildlife Audits and the Conservation Volunteers also took place.  The majority of training took place in 2011 with the remainder delivered in the early weeks of 2012.
TRAINING COMPLETED
Farmworkers first aid
Wednesday October 26th and Wednesday November 2nd, 7pm -9.30pm, Park House, Lanchester.
This bespoke course has been developed by local farmers and The North East Ambulance Service to cover first aid requirements on farms.  Over the two sessions topics covered included: Adult CPR, Wounds & Bleeding, Shock, Working in remote areas, Crush Injuries, Electric Shock and Poisoning.
This course was FREE to all agricultural workers in the Lanchester Parish area.
LANTRA Chainsaw maintenance and cross cutting
We provided two day courses in maintenance and operation of chainsaws and cross cutting.
The subsidised cost of only £30.60 per person for the 2day course was open to all agricultural workers who live or work in the Parish.
Course dates:
November: Thur 3rd & Fri 4th                      Sat 5th & Sat 12th
December: Thur 1st & Fri 2nd                     Mon 5th & Tue 6th
CLICK ON THE PICTURE FOR MORE PHOTOS
National Hedgelaying Society Evening talk and demonstration Event
The national hedge laying society's trainer Mr Derrick Hale gave a talk on hedge laying at Broom House Farm on Friday 11th November at 7pm.
Derrick is well known for his vast knowledge of the history and practice of hedge laying and his enthusiastic style kept all enthralled.  The evening talk was accompanied by a pie and pea supper and was free to all.
Derrick followed his talk the next day with a hedge laying demonstration which also took place at Broom House farm (along the entrance road from Burnhope).  12 people of varying skill levels took part in the event and we even had the left over pie and peas for lunch.  If you would like to see the results of our handiwork then why not have a trip up to Broom House farm and have a look at the hedge on your way.  You could always follow this with lunch at the farm!
CLICK ON THE PICTURE BELOW FOR MORE PICS FROM THE EVENTS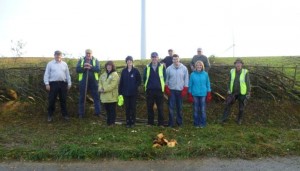 Plant Identification
In the summer we ran a one day course in plant identification to support surveys across the Parish.
CLICK ON THE PICTURE BELOW FOR MORE PICS FROM THE DAY
BWMB Sheep Shearing – beginners
A two day course completed by 5 local young farmworkers, all trainees achieved accreditation with either a blue or bronze badge.  The Locality Map Project provided 80% funding for the training.
CLICK ON THE PHOTO BELOW TO SEE MORE PICS
IT training
1-2-1 computer training in your own home only £10 for a 3 hour session
Training sessions were tailored to individual needs whether it was how to use a mouse or designing a website for your business.
The training program was provided by UTASS (The Upper Teesdale Agricultural Support Service) with funding through LANTRA.
MapInfo training
The 1st Training session in recording wildlife sightings using MapInfo (a computer program designed for recording wildlife) was delivered on the 25th January 2011.  Vital work then got underway to input all records about the wildlife of Lanchester and its distribution around the Parish.
MapInfo training
Archival research training day
As part of the heritage audit of the Parish the locality map project organised for two groups to visit Durham County Record Office.
There was a general introduction to the Record Office given by the County Archivist, including a chance to go into a strongroom to see how they care for the records.  They provided and talked about archives relating to the Lanchester area for people to explore.  They also delivered a training session on how to search the catalogue database, to assist with future research.